January headline: Welcome Isabelle Palmer!
[
]
As we ring in 2014, in comes the new Girl of the year, Isabelle! She is an inspired dancer who finds her own way to shine. visit our Isabelle character page to learn more about her!
Must See- Try new moves with Isabelle sweepstakes page! Learn about the sweepstakes where you can take classes to win a doll or a trip to NYC!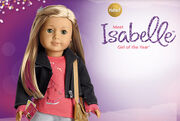 Welcome to the American Girl of the Year Wiki
[
]
Everything about American Girl of the years 2001-2014, from dolls to books to movies to clothes!
Describe your topic
[
]
American Girl of the Year Wiki has info about dolls, books, movies, and clothes in the American Girl of the year line. See American Girl.com or find a store on our Stores page to purchase the items (unless they are retired GOTY items)
Latest activity
[
]
Photos and videos are a great way to add visuals to your wiki. Find videos about your topic by exploring Wikia's Video Library.